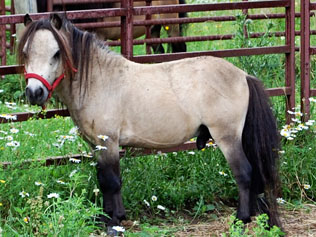 Our Ponies
We have been active in the Personal Ponies program for many years, and believe in their theory that ponies bring smiles wherever they go.
We raise miniature horses/ponies to use for therapy. We take them t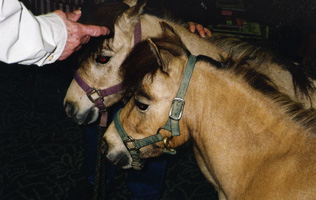 o nursing homes, hospitals, and schools to work with children and adults. At 28 inches Bucky is our smallest therapy pony. Born in 2007, he has visited a multitude of nursing homes and rehabilitation centers. He stands like a statue for petting and is not afraid of loud noises, crowded elevators or busy corridors.
He goes up and down stairs with alacrity. We purchased him from a farm in Kansas, where he was raised with children and other animals. He is gentle and outgoing and can go into hospital rooms for visits with people who are bedridden.
Most of our therapy ponies are under 35 inches tall and are used for driving competitions as well as their visits off the farm to rehabilitation centers and children's camps.
All of our visits are done in the spring, summer or fall. Here in Upstate New York, their coats are dense in order to keep them warm during the winter months, so it is almost impossible to bathe them for visits.
Here are some of our ponies driving and making a visit to a rehabilitation center...