Our Foundation Sire:
Greystone McErrill was bred by Marianne Alexander, at Greystone Farm in Ithaca in 1978. His sire was Hideaways Greystone Alex and his dam was Erin's Lassie. Melanie Alexander Fuchs, Marianne's daughter, trained and competed him. But his real worth was as a sire of sires, a producer of world class get. He was a wonderful teacher to a beginning horse breeder, always a gentleman to handle and work around.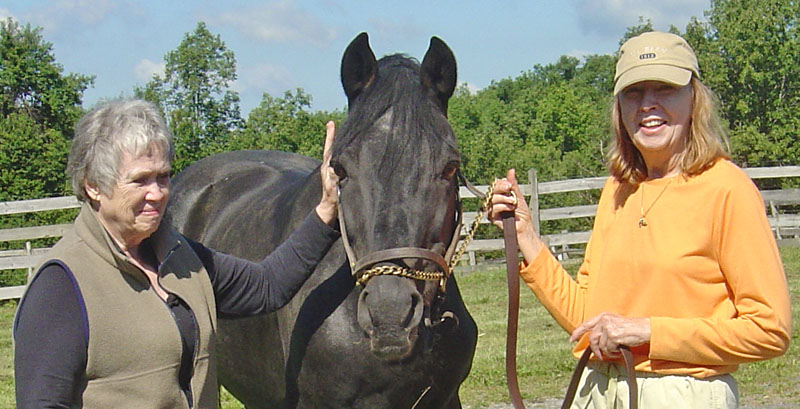 As he matured to 15.2hh, he retained all of the characteristics of the Connemara , the "eager to please" attitude and substance of bone and hoof. His famous sons, Greystone Dallen McMor, Greystone Ian McVai, and Thor of Greystone have also produced many wonderful competitors who are enhancing his legacy in the Connemara breed into the third generation and beyond.   His registered get are listed in the ACPS stud books and in addition, he has produced many crossbred foals out of quality mares.
All told, his get must total at least a thousand. When he was crossed with Thoroughbred mares, his get were particularly successful in driving competitions as evidenced by their selection for many national as well as international competitions.


His son and full brother won the Gold Medal in Pairs Driving at the World Championship in Austria in 1991, with Lana Wright as whip.

His daughter, Unicorn Janie, was the 1997 AHSA (now USEF) Reserve National Champion. She was selected for the World Singles Competition in 1998.

His son, True Grit qualified as an alternate for the World Singles Championship in 2002, at the advanced level.

Miles to Go, by Thor of Greystone, out of Unicorn Janie, competed at the advanced level in 1999, placing first at the Gladstone Driving Event in Gladstone, New Jersey and second at the Laurels in Unionville, Pa. His score at the Fair Hill International  qualified his whip, Kim Stover, to become the first singles driver to win the Jaguar Triple Crown of Driving. At the Fair Hill show, second place was won by Greystone Ben Dor, a grandson of McErrill's, by Greystone Dallen McMor.  Miles to Go was the AHSA National Champion in 1999.

His son, Tricreek Greystone Laughlin has been competing at the Advanced Level in 2009. He won the Advanced Division at Bromont and was second to Thor's Toy Truck (Errill's Grandson) at the Laurels.

Both Thor's Toy Truck and Loughlin (Lucky) competed at the World Singles Competition in Italy, Summer 2010. Lucky, with Kim Stover as whip, was fourth in Cones which was the highest woman driver of the 75 competitors. Lucky was 17th in the marathon and the United States finished the competition in 11th position.

And in other disciplines:

In 2003 the Performance Horse Registry listed McErrill in 3rd place as a sire of pony jumpers.

A grandson, Lunar Eclipse, by Thor of Greystone, earned the U.S. Eventing Association's Horse of the Year award at training level in 1996, and at preliminary level in 1999.

A grandson, Moonlight Rock N' Roll, by Ian McVai, captured the Morven Park CCI* in 2008.

Winter Romance, also a grandson by Ian McVai, won the grand champion title in the International Hunter Futurity 4-Year-Old Sweepstakes at the Kentucky National Horse Show in 2008.


Hideaways Greystone Covergirl, McErrill's daughter, produced a dynasty of her own in the Seaborne line and won the American Connemara Pony Hall of Fame Broodmare Award in 2001. There is a possibility of a book being written about the Greystone line and any contributions, photos or anecdotes would be welcome. They can be sent to Mary Lou Thall at tricreek@hotmail.com .

By serendipitous genetic expression, a 15.2hh stallion was born whose progeny has left an imprint on the history of the Connemara breed in America and on the hearts of many of his fans.  At 31 years of age, the Connemara stallion, Greystone McErrill, was laid to rest overlooking his paddock and pond on January 29, at Triple Creek Farm in West Winfield, New York, where he had spent the last 18 years of his life.
He had a presence that will be remembered and missed.